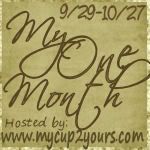 I started out using the title
One Month To Live
on my post and then thought better of it, as I didn't want to scare all my friends! :)
Genny at
My Cup 2 Yours
was inspired by the book
One Month To Live
and encouraged us to write posts on what we might do in that month or what changes we would make and link up with her. It was something I had to keep mulling over before I was ready to write. Here are my thoughts...
~~~~~~~~~~~~~~~~~~

One month left on this earth - how will I handle this? Fleeting thoughts go by - "The List" of things I never did: write a book, visit Europe, take cake-decorating classes, and more. No time for those in a month, nor would I get any lasting pleasure from them. Then I briefly think about all the relatives who are too far to visit in that amount of time - I will not get to hug them and say good-bye. And then my thoughts settle on my family. How are they going to get used to the idea of life without Mom? How can I tell them everything I want to say in that amount of time? What will we do during that month?
Only then do I think about myself. I am not thinking "Poor me." I have the beautiful gift of knowing exactly where I'm going - to be with Jesus and experience sorrow and sin no more. I praise the Lord for His gift of forgiveness given by grace. I do not deserve it and I have not earned it, but it has been given to me nonetheless. In one short month, I am going to experience the greatest joy I have ever known! I am happy and sad at the same time. What will it be like for my loved ones left behind? It is sad to think of all the special moments I will miss with family - graduations, weddings, births.
If I am going on to receive the greatest gift ever given, then it seems only right that I leave some gifts behind for my family:
~ I want to write to them, to leave letters to be read when I am gone.
~ I want to give them my undivided attention and love.
~ I want to pray and cry and laugh with them.
~ I want to organize/clean my household to make things easier for them later.
~ I want to leave memories: photos, videos, blog posts.
~ I want to praise the Lord with them and seek His comfort.
A month seems so short a time with so much to do. I am praying that the Lord helps me to spend appropriate amounts of time working on my gifts and helps me not to neglect the most important things. And I want to thank Him for blessing me with a month to prepare myself and my loved ones for this new journey.
~~~~~~~~~~~~~~~~~~
What if you had one month to live? How would you feel? What would you do? I hope to make some changes in the way I do things. I love that Kristen at We Are That Family said in
her post
that she wouldn't change a thing - God is changing her.
If you feel inspired to write a post on
My One Month
- there's still time to share it by linking it up at
My Cup 2 Yours
. You have until Oct. 27
th
.