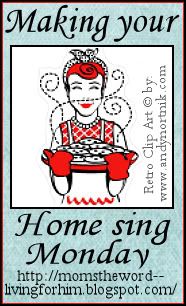 I'm joining up again with Nan from Mom's The Word for
Making Your Home Sing Monday
! You really should stop by her blog to read some great posts and to see what other people are doing to make their home sing!
Last week
I said I wanted to make my home sing by taking on the making of homemade yogurt. Well, I did it! It didn't quite turn out according to plan, but we ate it all and I'll be making it again this week.
My friend (Thanks Katie!) had made this yogurt recipe recently and was successful. It's a
crockpot yogurt recipe
from the blog
A Year of Slow Cooking
(if you're looking for slow cooker recipes, it's the place to go!). If you look up the recipe, you'll also want to read the suggestions and ideas in the comments. My friend added unflavored gelatin to hers before it sat for 8 hours and it turned out thick and creamy. I decided to be rebellious (there's that streak again) and make it just the way it stated on the blog.
Here's the milk and yogurt (as a starter) that I used. I didn't mean to get nonfat yogurt - oh well.

I made the yogurt so that it sat overnight in the slow cooker with a towel wrapped around it. And in the morning? It smelled like yogurt and there were some parts that had solidified a bit. I probably shouldn't have stirred it all up at that point, but I did. That's when I realized that I had some sort of yogurt "soup."
Here's the yogurt after being chilled and ever so slightly thickened! I was told that I should try straining overnight through cheesecloth, but my hubs said not to bother. He was enjoying putting it in a glass, stirring in some jam, and drinking it. I put mine in a bowl with some agave sweetener, a splash of Trader Joe's vanilla, and ate it like a cold yogurt soup! It was yummy! And we finished off the last of it blended up with fresh peaches and raw sugar - mmmm.
I'm going to make it again this week. I will still be rebellious and not add anything to thicken as I want to see if I can improve it first. I believe that my slow cooker did not stay warm enough, so I will heat a bit longer, store it in an insulated bag and towels overnight, and let it sit a little longer. It can't get any thinner - LOL!
To continue improving my homemaking skills to make my home sing some more, I'll take on another project this week. I want to make a master grocery store list. I would like something that lets me circle the items I need and have it in the order I shop at Winco. I'll let you know what happens!
Are you trying anything new to
make your home sing
this week? Any yogurt improvement suggestions?
I'm also linking this up to
Your Life, Your Blog
at Real Life! Head over to read what others are up to and link up your own post from the previous week!
Have a fabulous Monday!