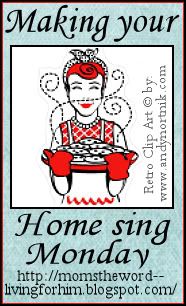 Welcome to another
Making Your Home Sing Monday
! Don't you just love the thought of starting a week with a singing home? Right now, my poor neglected home is singing "
You Don't Bring Me Flowers
" - LOL!
Last week
, I tried making yogurt (by the way, made a second batch - still quite thin, but tasty) and this time I wanted to create a master grocery shopping list. This is something I've thought about for a long time. When I make a list, it takes a while and I don't always organize it just right to keep my grocery shopping simple.
I finally did it! This isn't a list that could be used by others since I have organized it according to the order I shop the aisles of my Winco store. I also listed items that I purchase most often for my family. You could certainly use the idea to create a list that works for you though!
I haven't officially tested the list yet. I'm hoping to today. I'll make my list and shop to see if I need to make any adjustments before copying a bunch of them. I figure this will save me at least 10 minutes during list-making and at least 5 minutes in the store while trying to figure out what I need. That doesn't sound like a lot of time, but it does add up. And the even bigger benefit for me is that it makes the whole grocery-shopping thing (menu, list, shopping, putting away) seem just a little easier - mentally. That makes me much more likely to accomplish it in a more timely manner!
I think I'll take on making homemade peanut butter next. That sounds more fun than coming up with some sort of rotating menu plan. :)
Before I can test this list out though, I must do the GOBS of dishes waiting and get my kitchen cleaned up and singing a happy tune!
What are you doing this week or today to make your home sing? Go check out
Making Your Home Sing Monday
for a great card file cleaning system idea and see ideas linked up from others!
Have a great Monday! See you tomorrow for Tea for Two-sday!
Oh, and in case you were wondering - I am still planning on doing a Fall Fruits Week, but I'll do it in October. I'll keep you updated as we get closer, but it will include recipes with pumpkin, apples, pears, cranberries and chocolate along with opportunities to link up and giveaways! Our homes will be singing Fall songs!