I hope you've enjoyed a lovely weekend!
Pleasing to You
is having a
100th Post Party
and is asking everybody to link up posts about JOY! Since I wrote here about how I want to find JOY to make my home sing, I thought it would be a good post to link up! Go
there
to read what brings others joy!
I've been wanting to start working on
making my home sing
, so this meme is perfect! I plan to take on a new homemaking project each week. I'll post about them on Mondays as part of trying to make my home sing (and maybe even linking to Tackle It Tuesdays at
5M4M
).
I will take on my first project this week and post about it next Monday. My first project will be making homemade yogurt. I already have the recipe and my hubby is very excited for me to attempt it!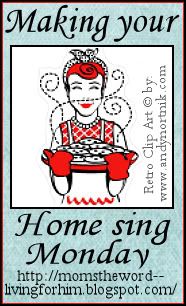 I was inspired today to try to focus on JOY when it comes to being a homemaker. I will be honest - I struggle
greatly
with homemaking. I'm a stay-at-home mom with 1 son who attends a Christian school. I have the time and the ability to take wonderful care of my home and family. I have no excuses. So why oh why do I constantly fall short? I know it is sin in my heart. I believe it is selfishness and rebellion. I want to do what I
WANT
to do and cleaning floors and washing dishes are not high on that list! And I certainly don't
WANT
to do something that I'm told I
HAVE
to do! Sounds childish, doesn't it?
I am childish, but I am also a child of God. I was reminded today of just how very blessed we are as children of God! I don't deserve all the things that the Lord has blessed me with, but He has blessed me just the same. I
WANT
to shift my thinking to consider the things that I
have
to do as things that I
get
to do. I
WANT
to be a blessing to my family. But I can't do that...on my own! I
HAVE
to ask for God's help. He can help me overcome these struggles and make that shift. He can help me make my home sing! Instead of being a reluctant homemaker, I can be a homemaker filled with
JOY
!
I hope that you'll stay with me on this journey. And I do ask for your prayers in this area my friends. It means so much to me to know that I have your support!
Oh, and just so you're not overly impressed by my chocolate and dessert creations, you should know that behind every yummy picture is a complete kitchen disaster! :)
Have a JOY-filled week!
Stop by
Mom's The Word
to see how others are making their home sing! I'll see you back here tomorrow for Tea For Two-sday!