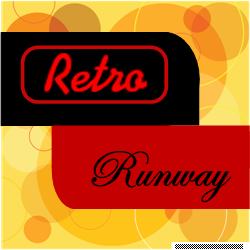 Melissa from Frugal Creativity is having a
Retro Runway
blog party today!! Post some fun retro pics or memories and
go link up
!
I already showed you
some of my 80's hairstyles
last week. And I even told you
the story of THIS hairstyle
!
But then how does one go from that (above) to this (below)? And in about a year and a half too!
This was my Senior picture that went in the yearbook. It was taken the Summer before my Senior year. I had a professional session and everything! That hair took some time every day, especially since I have very fine, very straight hair! I remember blow drying, using the curling iron A LOT, teasing it some, using a ton of Aqua Net hairspray and then sometimes having to start all over because I wasn't happy with it. That meant I would go rinse it out and start fresh. LOL! It was all about the hair I tell you!!
Then fast forward less than a year later, after graduation - now what's happened to my hair? I had to cut it short during the year - long story short - got mono, had high fevers, 3 months later started losing some hair, cut it short while new hair growth happened. It was already growing out by the time the pic below was taken. So what did I do??
I asked the hair stylist to give me a bob, but to make it unique. This is what we came up with - cut the sides like a bob, cut it short & spiky on top, leaving a few long pieces for bangs. Er, because that makes perfect sense, right?! :)
This was at a family reunion and here's a pic of me, my Dad, and my sis - just so you can get the full 80's outfit feel!
Mini skirt - check. Large LA Gear shirt with shoulder pads - check. Big earrings - check. Swatch watch - check. Unusual hairstyle - check. Dad who wears black dress socks with shorts - check. Ah, good times.
So there's your little dose of the 80's and a bit about how often I would change my hairstyles! Hope you enjoyed it!
Go check out
Retro Runway
for more fun looks into the past!!
Have like a totally awesome day friends! :)