...or as I like to call it *93* Days to Clean!! I love this book and this challenge, but it's been hard for me to keep up with the daily Martha challenges. May is a very busy month so I'm not home as much to clean and these are projects that I usually avoid (which is why I so desperately need the challenges!). So not only do I have to get my regular cleaning done, but also the challenges which often can't be finished in 1 or 2 days for me. I'm s.l.o.w. when it comes to chores, or anything actually. I'm a daydreamer...*
stops to look outside at clouds, squirrels,and the dog (and I'm not even kidding)
*...now what was I saying?? :)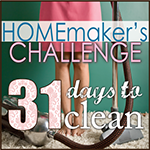 If you are diligently following along with the 31 Days to Clean challenge at
Joyful Mothering
, then you should be around Day 19ish. I am starting Day 6! And you know what? That's OK, because I am actually getting things done and I'm so happy about it! Besides, the Martha challenges aren't even the most important part - the Mary challenges are great and just reading the book is so helpful (Thank you
Sarah Mae
!).
The best thing about this is that it doesn't matter how you go through it - just do it!
Some people
do well with a shorter term challenge and some people...*
gets up to check on neighbors; decides more coffee is required to finish this post; starts making coffee
*...now where was I?? Some people *ahem* need to take things at a slower pace. Take it fast or slow or start over or make a list of Martha challenges and do them in any order - whatever works for you. But most importantly, do read the book and work on the Mary Challenges. You won't regret it!
And bonus with the Martha challenges, I've been running across some good cleaning tips! I'll share some next week...*
gets fresh cup of coffee; wonders if Kim would like knowing that I'm using coffee cup from FL; counts how many days of school are left for the kiddo (4 1/2!)
*...aren't you amazed that I ever actually complete a task?? LOL!
Even Sarah Mae gives you
permission to start fresh
! And my friend Stephanie is tackling the
31 days her own way.
Or be encouraged by
Stacy
, who has kept up with the reading but is plugging away at the challenges slowly. Each Friday,
Christin
has a link-up for your 31 Days to Clean posts. I encourage you to read those - you'll find that everybody is in a different stage - no pressure to be perfect or do it the same as anybody else!
So that's where I'm at! Can you believe I'm finishing out the post without getting sidetracked again? :)
Hugs to all! Be encouraged and do it whatever way works for you!
You can stop
over here
for more info on the 31 Days to Clean book.