Oh yes, I am all about the helpful housework tips. Housework is my all-time favorite thing...
HA
! Here's a good pic of me - obviously loving the housework.
I do vacuum, really, but not as often as I should. I tend to put on the blinders until I get really motivated to do it.
But I've got some great ideas that can motivate me, er...I mean you...to vacuum!
;)
Not that I have tried any of these...*
ahem
.*
1.
Make sure your dog is shedding to the point where fluffs of dog hair are floating happily around your floor.
2.
Let ants invade - not with one trail to a specific spot - but with scouts sent out all over the place hunting down those remaining Thanksgiving crumbs.
3.
Let the wind and rain drop plenty of leaves on the ground so they can stick to all shoes and get tracked evenly throughout the house.
4.
Have your son take the garbage out by walking through the house instead of going out the back door, with the bag leaving a trail of drips from some mystery substance.
5.
Break a glass or a bowl, but really shatter it completely and from a decent height so that it spreads nice and far. (
Actual helpful tip - did you know you can clean up remaining unseen bits of glass with a soft piece of white bread? Press all around the area and the glass bits will stick to the bread - works like a charm and you'll be amazed at what you missed!
)
6.
Have your son do some crafting, especially with glitter. Make sure he gets up and down and moves around a lot, causing a "breeze" to blow the glitter everywhere.
7.
Spill some food in the kitchen, preferably something out of a box, preferably because somebody put it away with the open end hidden so you accidentally point that end toward the floor.
8.
Use a 3-hole punch on a whole stack of papers, but make sure you don't notice that the bottom isn't on all the way so that when you pick it up the bottom falls off and little paper circles fall all over the place.
9.
Let the dog throw up, in the kitchen, on a rug, right in front of the back door just as you are approaching it to let him out.
10.
Walk around in the mud, then let it dry on your shoes and forget all about it. A couple days later walk all around the house in those shoes so little clumps of dried dirt mark your path.
I am so motivated to vacuum now!
Except that I just did
.
Because of the ants.
Are you the sort of person who vacuums daily or are you going to use some of my motivators to help you out
?
What vacuum motivational ideas do you have (you *must* have 1!)
?
I'm linked up with the fun & fabulous
Oh Amanda
for
Top Ten Tuesday
! Stop over there for more fun!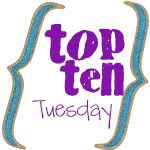 Have a lovely day friends!!