I couldn't find an After-Christmas meme, so I decided to come up with 10 questions of my own! Feel free to tag yourself and post your own answers (let me know if you do so I can come read!) or leave them in the comments!
1. How long do you leave Christmas decorations up?
Since I get them up so late (er...like Christmas Eve), I like to leave them up a while - for sure until after January 1st - maybe even another week after that.
2. How many days until your kids are bored with their presents?
We don't give my son that many gifts (I think we gave him 4 - a book, a movie, a toy, and something for Boy Scouts) and he usually loves what he does get. His fave this year is a remote control helicopter and he declared that he "will never get tired of it!" Too cute!
3. Do you shop the after-Christmas sales?
I usually don't, but I've seen so many great offers this year. I did a little online shopping and hubs headed out to a sale so he could use a gift card.
4. Do you have to return any gifts?
Hubs has to exchange a shirt, but I think that's it. NO WAY I'm returning any of my Starbucks gift cards - LOL! :)
5. When do your kids go back to school?
We'll start school back up on Tuesday 1/3. Guess that means I should come up with some lesson plans this week.
6. Are you still mailing cards - late Christmas cards/New Year's cards?
I got them all mailed out before Christmas Eve - Woo Hoo! Just high-fived myself. ;)
7. Do you have special plans for New Year's Eve/Day?
Don't think so. After hosting Thanksgiving and Christmas, I just want a nice quiet weekend of relaxation with my little family!
8. Are you taking any road trips this week?
No - too much to do around home. This week will fly by I think!
9. How many Christmas desserts/goodies do you have left?
Too.Many. Let's see - Peppermint-Chocolate Ice Cream Pie, Cranberry-Raspberry Chocolate Mousse Cake, biscotti, cupcakes, snack mix, chocolate truffles, candy canes. We'll get rid of stuff and be back on track next week (back to a low-carb, no sugar diet for January).
10. How many Christmas pictures do you have to upload?
I am the worst at taking pics for holidays - isn't that terrible? I just like to enjoy the moments and not have to worry about grabbing the camera (and I call myself a blogger??). There are no pics of our gathering, but I did take one today of the kiddo with a Christmas present - still gotta edit that one!
I'm linking up to
Oh Amanda's
Top Ten Tuesday
today - stop by for a little fun!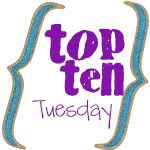 Hope you all had a wonderful Christmas! Have a lovely day friends!