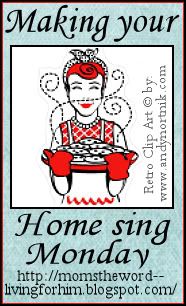 I thought I better get back with it and attempt to make my home sing! My original plan was to call this "Paperwork Week" and stay off the computer the rest of the week, but that isn't very practical. However, if I post the next couple of days, it will just be some quick pics and a few words. I've GOT to keep my focus on the paperwork because it is attacking!
I have a cabinet about to explode with all the unorganized cookbooks, recipes, stacks of miscellaneous paperwork shoved in when no time to organize, etc. It's scary. I can't share a before pic with you - it's that bad! Too embarrassing and I know hubs would not appreciate it. Just imagine a large computer cabinet (no computer in it) with doors that fly open and paper starting to shoot at you from every direction! That would be close.
Since I can no longer locate things I need in there, I know it's past time to organize. Also, I need to find tax paperwork which I have conveniently mixed in. Speaking of taxes, do you realize all the stuff that bloggers have to show on their taxes? I just discovered that even not-for-profit, hobby bloggers have to show the value of all items received for reviews as barter income and the value of giveaway items should also be declared. You can deduct some expenses like giveaway shipping, etc. but still - ugh. And you certainly can't pretend like you don't remember receiving those items when you've blogged about them for all the world to see, including the IRS! If this is news to you - here are a couple of links for you to look at with some good info
here
and
here
. But enough with the bucket of cold water!
I'm going to attack the paperwork - all day Tuesday. That means I'm going to go offline that day. I will attempt to stay off the computer all day so I won't get sidetracked - no e-mail, no blog reading, no commenting, no twitter, no facebook (
hands shaking in anticipation of withdrawal
). If you don't hear from me on Wednesday, you'll know that the cabinet got me. :) I'll try to have an update for you on Thursday.
I hope to be so organized when I'm done that my home is singing an opera - LOL! Oh and the dishwasher repairman is supposed to show up tomorrow morning - that'll make ME sing! Only 26 days without an operating dishwasher. Sigh. Bright side - 26 days without any other large appliance in our kitchen would be
slightly
more difficult.
Are you a super-organized paperwork person? How are you making your home sing this week? Stop over at
Mom's The Word
to see how others are making their homes sing and tell Nan to get well while you're there!
Have a marvelous Monday friends!